Thailand's beaches are gorgeous, there's no denying that. Other than relaxing on the beach they provide plenty of water based activities such as Sea Kayaking, an activity Dave and Deb bravely embraced.  But there is another place to enjoy the water in Thailand. You may not think it, but way up North, there are a lot of Chiang Mai Activities that take place on the water.
Away from the beaches Chiang Mai is a popular destination for people in Thailand for 1+ weeks. One of the reasons it's sometimes overlooked is that people simply want to be near water. It's also the question people often ask me, 'why don't you want to live near the beach?'
That's totally fair, but with a little bit of digging you'll find Chiang Mai has some awesome water related activities that'll we'll look into in addition to everything else the region has to offer.
Why Should A Quarry Be A Waste Of Land?
Most countries around the world have scarred land, known as a quarry. Once all the stones and minerals have been extracted, the land usually becomes barren wasteland. 20 minutes from Chiang Mai, there is a quarry that's isn't a barren wasteland but a picturesque swimming spot. Initially it was visited by a few locals and expats but has now ben converted into a tourist attraction with an entrance fee.
Love Chiang Mai? Read: Unique Chiang Mai Attractions Besides Riding Elephants. 
The main drawcard is the cliff jumping, where you can plunge into the calm blue waters below. Even if you don't want to jump it's a great spot to hang out with friends, swim and enjoy exploring the quarries nooks and crannies.
Note: The water looks harmless, but nevertheless make sure you follow basic water safety practices as tragic accidents can happen.
River Life! (and the insane fake beach)
The Ping River runs through the city and naturally becomes a great spot for restaurants and bars (check out Bus Bar, my favourite bar in Chiang Mai). You don't want to be swimming in the river near the city however.
What you can do is go tubing Vang Vieng style with Chiang Mai Tubing, 45 minutes out of the city. When you arrive at the location, you might think you are on an Island with a whole beach club set up, including a fake beach.
Once you are on the river in the comfiest of tubes attached to your friends, you'll have an incredibly peaceful 60 – 90 minutes floating back to the Beach Club. Don't be in a rush to get back to Chiang Mai, at the beach club you can chill out in the hammocks, play volleyball, football, badminton…all your typical beach games.
Everyone Enjoys A Good Waterfall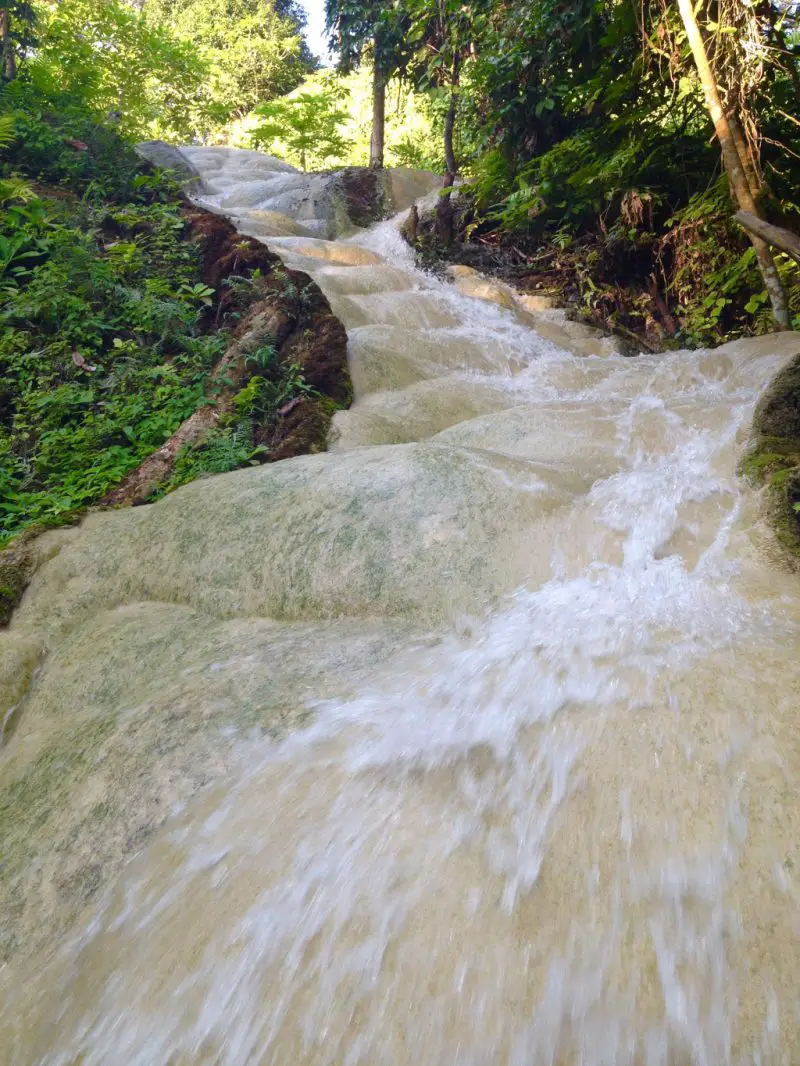 Thailand has hundreds of waterfalls, but an hours drive from Chiang Mai is the unique sticky waterfall. While physics doesn't make running up a waterfall practical the limestone rocks forming the sticky waterfall make the impossible, possible. It's hard to explain but once you step on to the pumice like rocks, any doubts go out the window as you bounce up and down the cascading waterfall.
Closer to the city, the Huay Kaew Waterfall allows the perfect escape just minutes away from Chiang Mai University with some short hikes available river side. The Mon Tha Than Waterfall is further up the road as well.
Stay In Floating Houses At Mae Ngat Dam
If you head to the Sticky Waterfall, consider making a night of it by staying at Mae Ngat Dam just down the road. If Thailand has felt overwhelming to you thus far, heading to Mae Ngat Dam can be a great way to relax. And it's not everyday you can sleep on a floating house!
You can relax on the house decks working on your tan, eat great food, have a beer and of course take a dip in water. It's one of several hidden gems in Northern Thailand.
Beautiful Lakes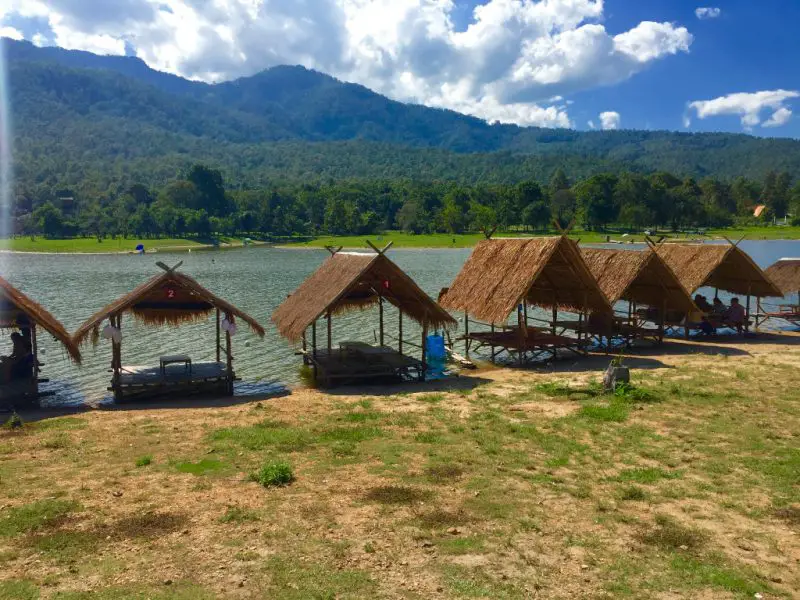 There are plenty of lakes in and around the city you can check out. Huay Tung Tao is the most popular one with locals and expats heading there throughout the week to relax in the lakeside bungalows, but anyone can visit for a measly 20 baht.
You can swim in Huay Tung Tao lake safely but I'm happy to sip away on a few beers, nibble on some snacks and float about on the tubes for hire. In the weekends, you can even hire pedal boats, with the classic swan boat one of several choices.
Spending an afternoon at Huay Tung Thao is one of my favourite in all of Chiang Mai.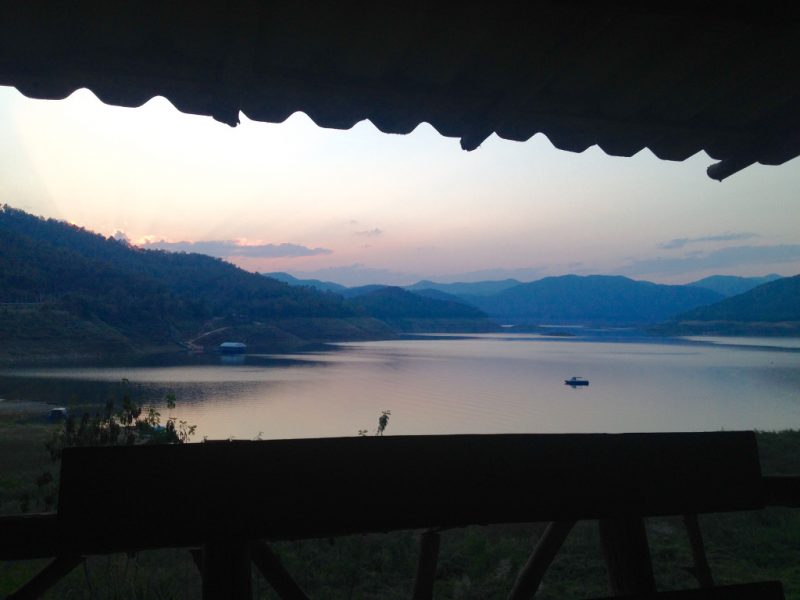 If you're looking for a beautiful sunset spot, consider heading to Mae Kwong Reservoir. The reservoir is just far enough out from the city the pollution isn't lurking. I went here a few times, grabbing a bite to eat at one of the lakeside restaurants with a beer making it the perfect spot to watch the sun end another day.
Other popular lakes, though aren't suitable for swimming are found at Chiang Mai University and at the park inside the southwest corner of the moat.
Celebrate Songkran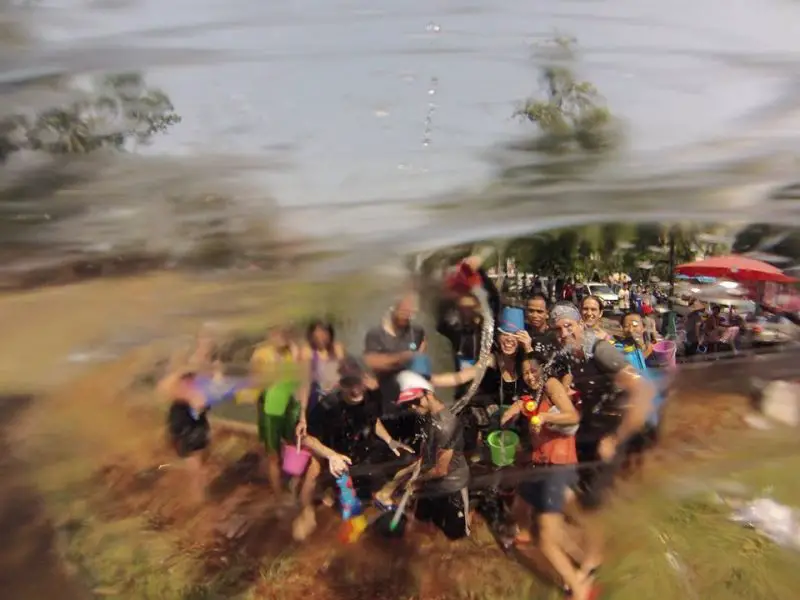 Songkran is the water festival in April bringing in the Thai New Year. Songkran is celebrated all over the country but after celebrating the last three New Years in Chiang Mai I can say it's the place to be.
The old city is surrounded by a moat, providing easy access to water and making the chaotic nature of the festival somewhat organised.
The festival goes for several days and is exhausting. If you think you'll need a break one day, be prepared to spend the day inside as no one is immune from getting splashed, a form of blessing.
Infinity Pools
The number of infinity pools has increased massively in the last decade and it would be remiss of me not to mention the best Chiang Mai infinity pool at Veranda Hotel. With views over a valley mixed with the hot Chiang Mai weather you can't not like the idea of taking a dip. There might be a pool at your accommodation, but the whole Veranda experience is memorable.

Chiang Mai is known as a city all types of people can fit into thanks to the variety of activities available. Despite being roughly 310 metres above sea level, even the hardiest of water babies have no excuse not to happy thanks to water activities available.

Enjoy: Authentic Real Trekking in Chiang Mai

No matter where I am in the world, Chiang Mai will always hold a special place in my heart and I'm sure once you visit you will appreciate the beauty of the city too.

Before I leave you to plan your Chiang Mai trip, make sure you save the map below. Trying to find places on Google Maps in Thailand isn't always easy so I've gone ahead an marked all of the places listed on a map for you.

—-BIO—-
Author Bio"
Jub comes from New Zealand and is the owner of Currently he finds himself back home for an extended period for the first time in five years. Primarily he is travelling solo but looks to join friends from all over the world when the timing is right.
Do catch his daily adventures follow his snapchat: . Other spots you can fund Jub are at Instagram and .
Related Posts