I must admit, riding an ostrich in South Africa wasn't high on my "to do list" but as it turned out, we had a blast!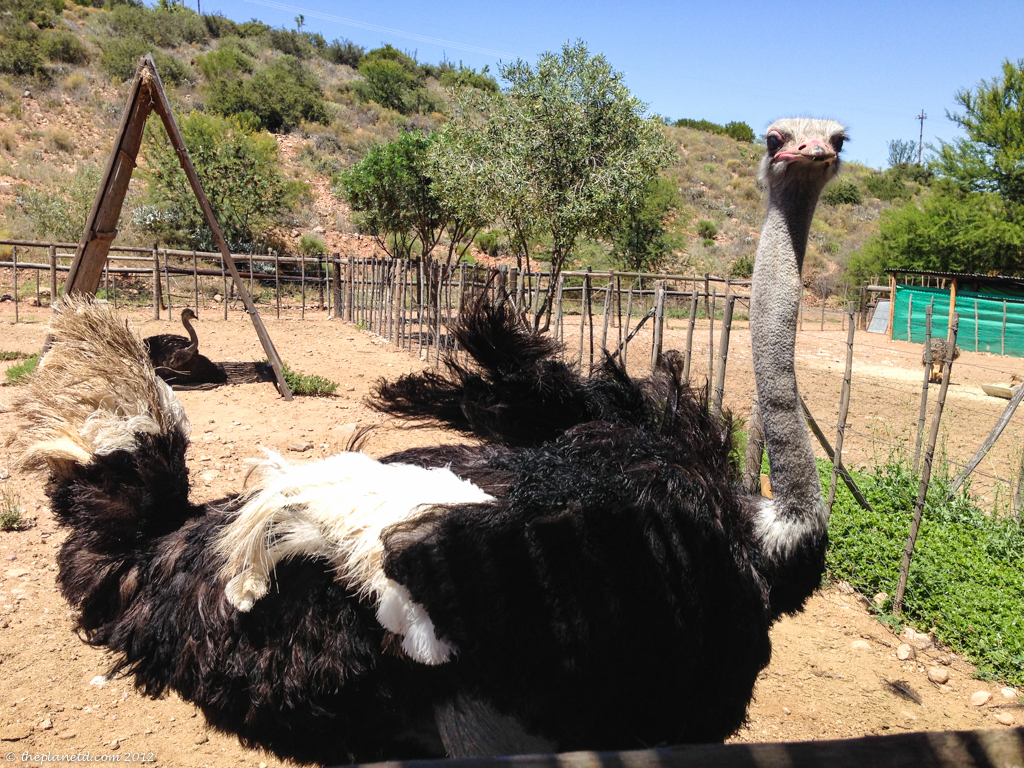 Ostrich Riding is one Zany Adventure
Our tour started off amazingly well at the Cango Ostrich farm.
It was just Dave and I and another guy from the US. We were feeling good that we'd have plenty of time to take photos and video of these long-legged feathered friends.
Our guide started to talk to us about raising ostrich and how valuable their leather, feathers and eggs were. It was an interesting introduction as we sat in the air-conditioned presentation room.
And then it happened.
A tour group of 14 people from the States (and one Canadian) came into joining us. You have got to be kidding me!
We had a tour booked for 10:30 am, sat around waiting until 11:00 am and then 10 minutes into our tour, this mammoth package tour joins us mucking up the place with laughter! (no laughter allowed I say, this is serious ostrich business 😉
Our guide was fantastic though. He saw the look of disgust on my face and seemed to take pity on my frustration.
He even seemed to be annoyed when the front desk opened the door to let this group in part way through our session. So I felt a bit of a connection with him.
When we went outside to see the birds, he let me have the first look at everything and let me go first when it came to having the ostrich eat out of my hand and he let me go first when it came time to ride!
When Dave's video jammed and we didn't get the take, he let me jump on again! I loved this guy.
He didn't know that we were bloggers, he didn't know that we were with South Africa Tourism, he only knew that I was looking to have the best experience possible.
the Ostrich Ride…
After I said yes, to riding, I actually had second thoughts. Especially when our guide made the disclaimer "If you break your arm, your leg or your neck, we are not responsible."
What was I thinking? Actually, I didn't have time to think, I was suited up in blue overalls, a put on that bird so quickly, that I didn't have a chance to take in what was happening.
I didn't know what to expect.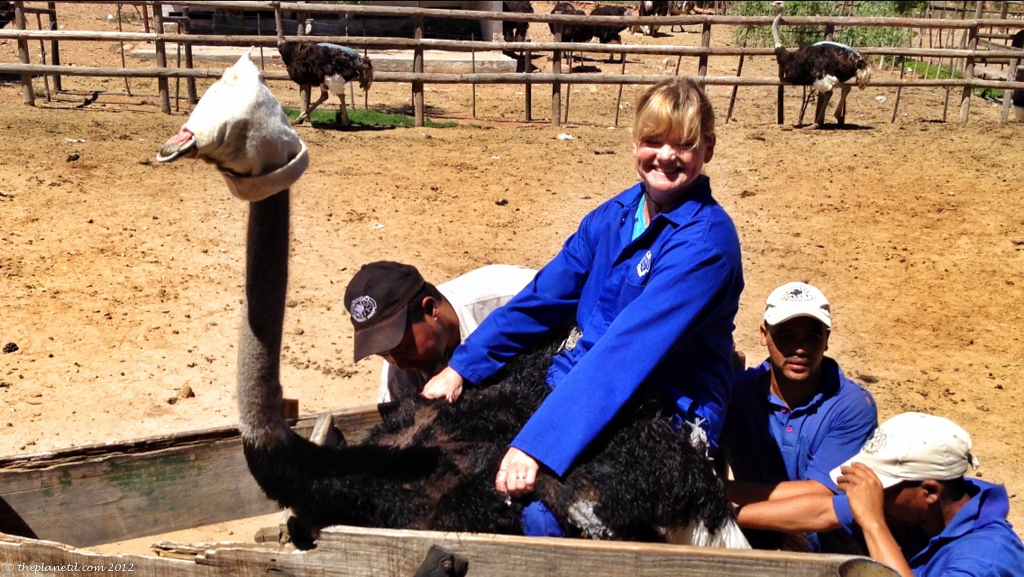 They brought the ostrich into the pen, put a hood over his eyes to calm him down and then set me on top.
I was told to hang onto his wings and wrap my fee around his chest. Once I was "sort of" stable, we were off!
It was hilarious. I felt completely out of control and just held on for dear life. Thank God the rangers were there to spot me in case I fell off because I was sure I was going to topple over.
In the end, I survived and by the time the second ride came around, I was an old pro.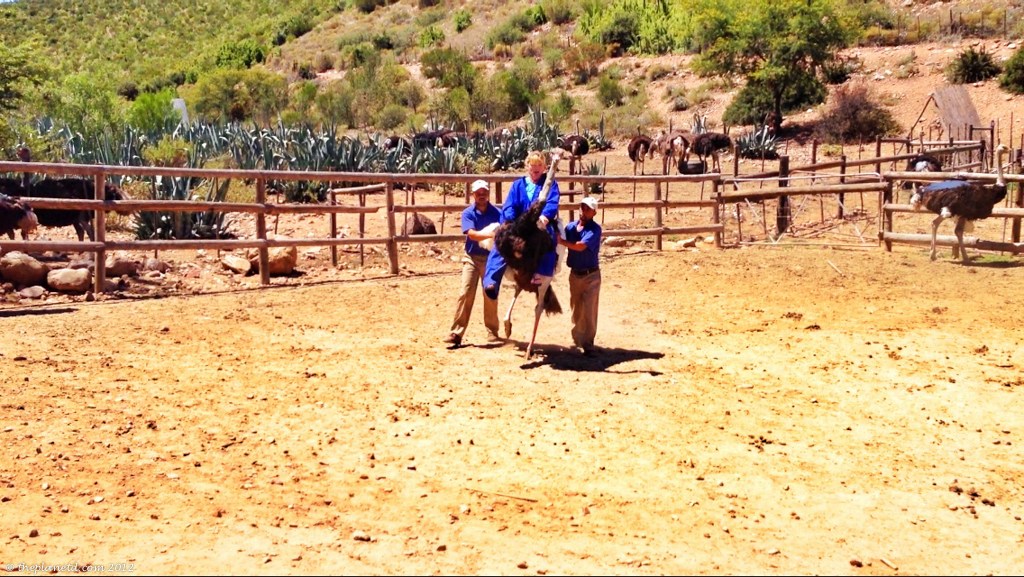 Dave's Turn with the Ostrich
Dave didn't get the chance to ride an ostrich because they have strict weight limits. The ostrich is strong, but you can't be over 65 Kilos.
I was annoyed with the guys in the group trying to claim they were under the weight. I'd put a couple of them at 80 kilos at least and here they were trying to say they were ok.
Luckily the guide laughed at them and said no.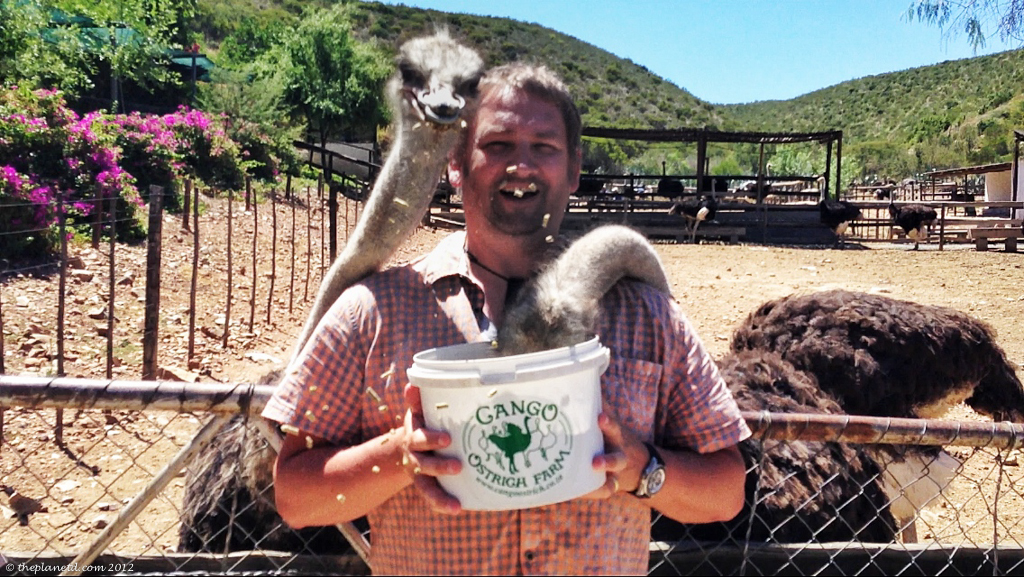 Instead of the ride, Dave did have the chance to get an ostrich neck massage.
Our guide, seemed to get the sense that we wanted away from this noisy group so he brought us over to the other corral separately as the rest of the pack took their turns riding the ostrich. He placed a bucket of food in Dave's hands, stood him by the fence and let the ostrich feast on the pellets.
It was the cutest moment.
The Cango Ostrich farm is an interesting experience.
We enjoyed visiting the ostrich and doing the activities, but when I thought about it, I realized that all these guys are being farmed.
They're like cattle or pigs. People eat ostrich, they use their feathers for carnivals like Mardi Gras and Rios Carnival, their eggs are used for decoration and their leather is a hot commodity.
I guess the guys that we rode and pet are safe for now as they're used to being around people.
Ostrich are strong and deadly. Our guide on our safari told us that the only animal he has truly felt threatened by in all his years of being a ranger was an ostrich.
One kick from an ostrich will kill you and if you find yourself being chased by an ostrich, lay down and give up.
An ostrich can reach speeds of 65 km per hour so you'll never outrun it.  Playing dead is your only chance, but in reality, you're screwed!
Book your own ostrich tour for R70 ($9 USD) The tour lasts 45 minutes and they happen every 20 minutes throughout the day. Find out more information at the Cango Ostrich Website.