We're trying something different over the next few days and have decided to give you a play by play of our time in Rome.
What's it like to visit this enchanting city? We're going to tell you. The history and the background on the monuments and buildings will be coming soon along with Dave's usual stunning photography and some fun videos, but for now, here's what's happening right here right now with photos taken on our new iPhone.
Rome is definitely a walking city. And for our first full day in Rome we walked.
After sleeping in later than we expected, we awoke to sunshine and happiness on a Sunday morning in Italy. We were very excited to see some of the iconic buildings and got ourselves ready as quickly as we could.
The streets were alive with people and even in our little neighbourhood of Trastevere, the tourists were out in full force. We noticed a group of tourists taking photographs of clothes hanging in the streets while a local man laughed whole heartedly. We didn't really understand why until we later read in our guide book that people come to Trastevere for a taste of Real Rome where clothing still hangs over clothes lines spanning the streets. Ah, now I get it, "Silly tourists coming over every day to take photos of laundry."
We didn't waste any time and made our way to the old city. We were on a mission to see the magnificent monuments.
Our first stop was the Pantheon. We were surprised how quickly we came upon it. Our landlord told us that we could walk everywhere, but we couldn't comprehend just how close together everything was until we actually walked to it.
It wasn't difficult to figure out that we happened upon the Pantheon when we saw the crowds! It's not even high season and the crowds are huge. But, we waltzed right into the massive building and were captivated by its 2000 year old dome and pillars. It's to this day, the worlds largest unreinforced dome. Wow, those ancient Romans knew how to construct a building.
It was then off to the Spanish Steps. Dave joked about how narrow and crowded the streets were and could you imagine if it started raining and we'd have to dodge umbrellas as well as people and traffic? Well, his question was answered as soon as we arrived at the Spanish Steps.
The rain started coming down in full force and we were about to know what it was like to walk in a sea of umbrellas. The Spanish Steps are usually an excellent place to hang out and watch people,but with the rain coming down, it wasn't the best time to chill out on the cold and wet walkway linking the higher and lower levels of early Rome.
So, it was off to the iconic Trevi Fountain.
Can you imagine what it is like to visit Rome in August? We are not in the high season right now, but the crowds are massive? It's a long way from the scenes at the Trevi Fountain that we've seen in the movies.
It was still a magical place. It is said that if you throw a coin into it's waters, you are guaranteed a return back to the eternal city. We threw in our coins and made our wish, and contributed to the €300 collected in the fountain each day.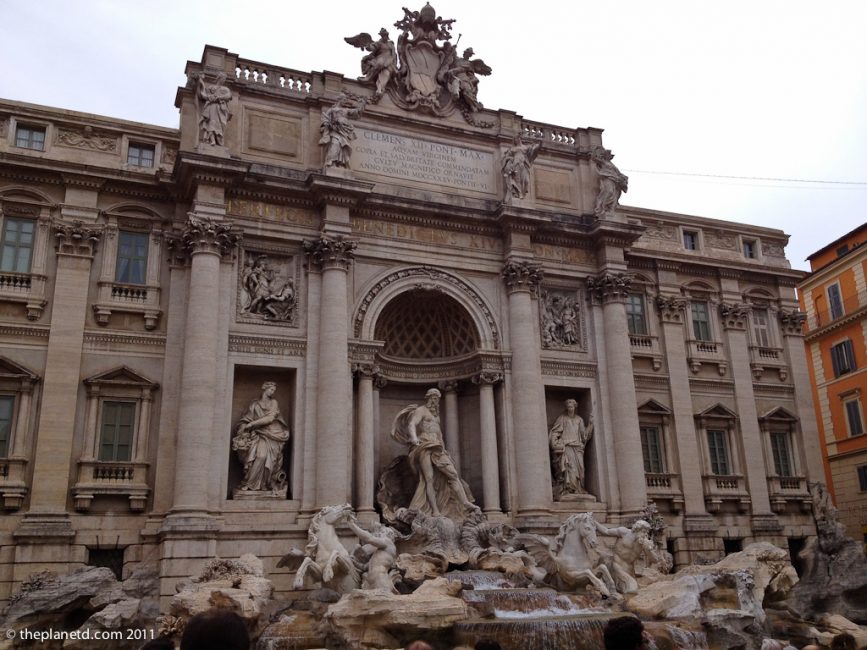 After our visit to the Trevi Fountain, we started to make our way to the Colosseum, when we came upon one of those statues on a bench that we see all over the world. I don't know what made me tell Dave to sit down for a photo because we normally walk right by them, but for some reason I wanted a shot of this guy. As Dave sat down I was puttering around trying to get my camera and bag organized when the statue pounced upon Dave! "Ah!" I cried. He totally caught me off guard.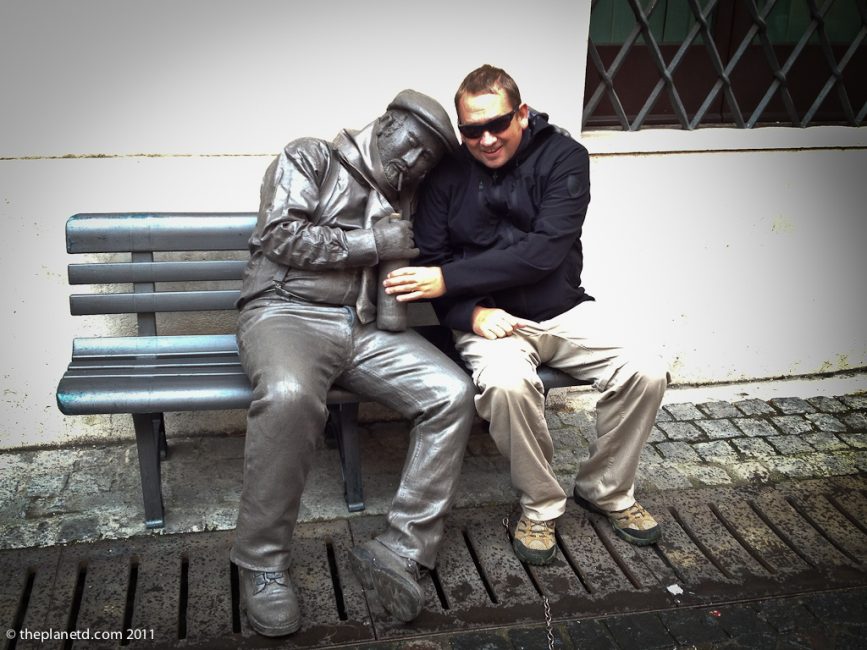 This was the best performance artist I had ever seen. We truly thought he was a statue on the bench and as Dave posed with him, I snapped as many photos as I could. The crowd gathered and we tossed him a Euro and felt content that we was about to make some money as everyone was thoroughly impressed!
So, on to the Colosseum. Ah, maybe not.
We have six days in Rome. The rain is coming down, we haven't eaten since our late breakfast and people watching is just too much fun!
Time for a glass of wine and relaxation. As they say, When in Rome!